Are you looking for Hunter Wheel Alignment for your vehicle?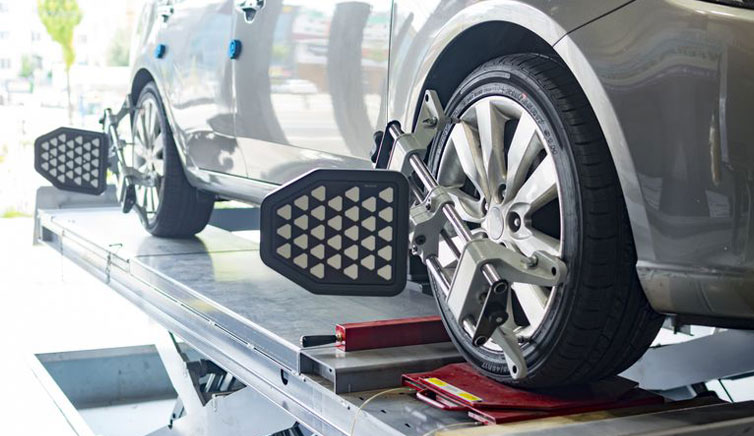 Wheel alignment - the correct lane setting ensures a safe journey!
The correct wheel alignment ensures that you are always driving safely on the road! 
Here, specific parameters that are decisive for the axle geometry of your vehicle are tested and set to be fully functional. 
Only through professional and regular wheel alignment checks, uneven tyre wear or defects on the chassis of your car can be recognized on time before they become dangerous. A pothole or a rough encounter with the curb can already change the axis setting. The wheel alignment is not automatically part of the routine inspection but should be on the to-do list of regular check-ups for every driver.
Our friendly SP Tyres professionals will be happy to explain to you:
When a wheel alignment is advisable.
What consequences a wrong wheel angle can have on the chassis, and the vehicle's driving behaviour.
What costs you can expect for a professional Hunter Wheel Alignment Shrewsbury.
Due to an incorrectly adjusted axle, your vehicle can react differently to what you are used to when braking, cornering or even while driving on a straight road.
Your vehicle will become unstable. You will notice this by the car pulling to the left or right. In addition, particularly stiff or spongy steering and a vehicle that is no longer on track can result from a misaligned or incorrectly adjusted axle. Apart from increased fuel consumption and faster tyre wear, the shock absorbers, springs and wheel suspension also wear out faster due to incorrect axle settings.
These parts must be replaced and repaired sooner - and that all costs good money - expenses that can easily be avoided.
AtSP Tyres we always consider Wheel Alignment Shrewsbury to be useful if:
A seasonal tyre change was due
After a tyre change due to an unrepairable puncture.
Your car has been lowered
You have had an accident (including hitting a curb or driving through a deep pothole) with your car
Uneven tyre wear has been diagnosed
A distance control system was fitted.
What is the difference between wheel alignment and tracking?
When adjusting the toe, it is determined whether the tyres are parallel to each other. It is, therefore, part of the wheel alignment. Because during wheel alignment, different values of the chassis geometry of your vehicle are checked and set. Two key values are decisive here: camber and toe.
Camber means the angle of the tyres to the axis of the car and the road, while lane (as explained above) means the parallel direction of travel.
The incorrectly adjusted camber has a negative impact on braking and driving on a straight road. At the same time, an incorrect lane is responsible for pulling the vehicle to the left or right. Optimal support of the wheel on the road and thus, safe driving is only guaranteed if these two components are correctly adjusted and functional.
Many vehicles now have electronic driver assistance systems such as distance keeping, lane-keeping or braking assistants. So that these electronic helpers can do their job correctly, all values belonging to the chassis geometry must be checked regularly and set correctly. We at SP Tyres Shrewsbury, therefore, advise you to get your car's wheel alignment checked regularly.
How does modern wheel alignment work and what exactly happens in the workshop?
Like so many things, wheel alignment is carried out electronically. Since most vehicles today are equipped with highly developed multi-link axles, the use of conventional wheel aligners or the previously practised, optical measurement using mirrors is no longer suitable. They would be far too imprecise and would lead to incorrect measurement results.
Here at SP Tyres, we use only the latest technology - the Hunter Wheel Alignment System. All the key parameters that are important for optimal chassis geometry are checked and the axles of your vehicle correctly set using digital measuring devices.
If you require any additional information about Hunter Wheel Alignment Shrewsbury or to book an appointment, please get in touch with us.
Area Covered: Shrewsbury, Wem, Alberbury, Atcham, Baschurch, Battlefield, Bayston Hill, Condover, Cressage, Leaton, Longton, Pontesbury, Shawbury, Wellington, Wilcott, Wroxeter