Are you looking for Wheel Balancing for your vehicle?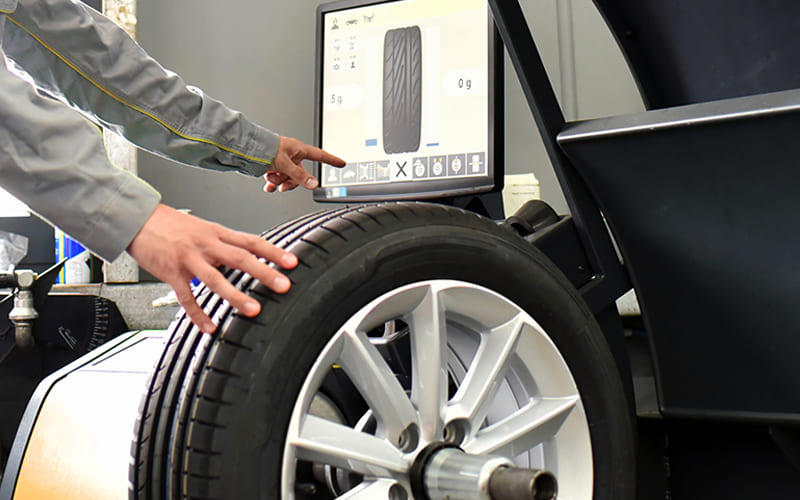 Proper and timely maintenance is essential to ensure optimum performance levels of your car for a long period. Your car is a machine that needs some necessary fluids and checks to work efficiently. Ignoring small and cheap checks can build up to be major and expensive issues. Timely checks help to refill reservoirs and correct any misalignment of parts in the car. Ignoring these checks increases the chances of the parts wearing off quicker while also getting damaged. Visit us, at SP Tyres, and our experts can help you guarantee enhanced performance for a long period.
Wheel Balancing
Wheels aren't manufactured perfectly by machines and have minor defects in them. These are caused due to some errors in the mass-production machines and need to be corrected before being used.
These are minute errors but can have very adverse effects at high speeds. From tyre faults to dangerous and life-threatening situations, wheel balancing Shrewsbury is something that should be corrected at the earliest. There are several methods to solve this issue and should be done by an expert who knows the procedure properly. Let our skilful technicians, at SP Tyres, take care of your car and you won't be disturbed by an imbalance in the foreseeable future.
How is it done
The wheel and tyre assembly is put on a balancing machine and rotated. It is observed by a machine that records the heaviest point of the wheel. That point is corrected by adding artificial weight on the other side to counter it.
There are two types of weights that are most commonly used for this process. The traditional bang-on weights are hammered onto the wheel to counter the deformity. However, there was a chance to damage the wheel in this process. This risk has been avoided by the new adhesive weights. The modern solution to imbalance is to stick the adhesive weights on the other side of the deformity and ensure enhanced performance levels.
Our experts, at SP Tyres, are some of the best technicians for this job and are known for their efficiency.
How to know
If you feel unnecessary vibrations from the steering wheel or under the chassis of the car, your car is probably facing some wheel balancing Shrewsbury, Wem issues. Take your car for a check if your tyres start making a lot of noise. Uneven tyres are also an imbalance issue indicator, so keep a lookout for them as well.
While all these are the juniors, the most dangerous thing for your car's balancing aspect is potholes. They are known to damage the balancing of the wheels the most.
Our experts, at SP Tyres, are some of the most proficient technicians. They have been extensively trained to deliver quality and efficient wheels balancing Shrewsbury services. They have been provided with best-in-class pieces of equipment and product to improve their work quality furthermore.
Customers are our top-most priority and we never compromise when it is about catering services to them.
Area Covered: Shrewsbury, Wem, Alberbury, Atcham, Baschurch, Battlefield, Bayston Hill, Condover, Cressage, Leaton, Longton, Pontesbury, Shawbury, Wellington, Wilcott, Wroxeter