Are you looking for Puncture Repairfor your vehicle?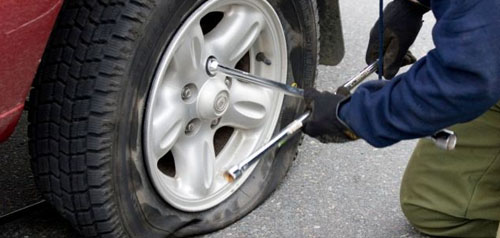 A tyre puncture can be very annoying, especially if you are not equipped with a set of run-flat tyres. Punctures often bring along several issues like a worn-out tyre, expensive replacement costs, and loss of control. Moreover, these punctures can be further annoying if you are late for work. Therefore, you must get an efficient puncture repair service for your car if you do not want to spend several hours on the road with no help.
Our garage, at SP Tyres, is committed to providing our customers with the best puncture repair service in the industry.
In case you want to know more about our puncture repair service, allow us to explain it to you.
What is a puncture repair service?
The main job of a puncture repair service is to repair any air-leakages or tyre damages on your tyre's tube. Our puncture repair experts are trained to repair your vehicle's tyre in no time. They work to identify any open areas in your tyre with the help of a water spray and seal it using a tyre sealant. Once, the sealant has been applied, our technicians fit your tyre back into the vehicle.
Our puncture repair Shrewsbury services are guaranteed to enhance your safety on the road. Also, you can always rely on our experts as they have years of rich experience in serving the customers of the UK.
Now that you know about our puncture repair services, you must get familiar with the benefits associated with it.
Benefits of getting an expert puncture repair service
Increased safety: Driving on a punctured tyre invites a lot of issues like reduced vehicle control, unstable driving, and increased risks of blowouts. However, our puncture repair service is guaranteed to increase your safety as we leave no hope for any further issues in your tyre.
Enhanced car life: Tyres are the lifeforce of your vehicle. Driving on a damaged set of tyres can lead you to visit the garages more frequently. Moreover, it also puts a negative impact on the shelf life of your car. Therefore, you must get your puncture repaired if you do not want to face such issues.
Increased fuel efficiency: Punctured tyres often increases the stress on your engine as it burns more fuel to carry forward your vehicle. Therefore, you must maintain a puncture-free set of tyres as they put less stress on your car's engine and, in turn, increase your fuel economy.
A Wonderful garage to get it all
Our garage, SP Tyres, is famous among the people of Shrewsbury and nearby areas for providing a variety of services like puncture repair, wheel alignment, wheel balancing and lots more. If you are looking to experience our services, simply book an appointment with us by emailing us, at Sptyres@live.com.